AdAnimate High Incentive Affiliate Program
AdAnimate announces its high lucrative Affiliate program. Anyone who has a good online presence can join our one of its kind affiliate program and can earn massive passive income.
High Commission Levels
We have setup high rewarding commission levels to encourage our affiliates. Higher the affiliate income will let you achieve higher the level.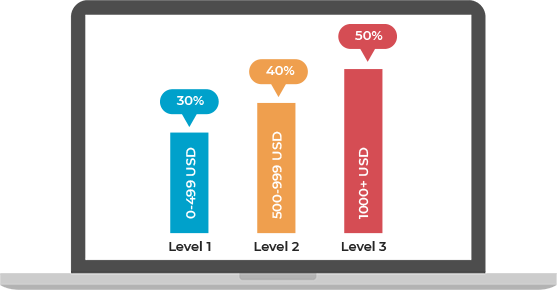 FAQs
Who can become an Affiliate?
Anyone who is keen to earn passive income can become an affiliate. People who have good social influence, high traffic blogs or a popular you tube channel can become affiliates and can earn a lot of passive income with very minimum efforts.
How much can an Affiliate earn?
An Affiliate can earn as much as possible. There is no bar to generate income from our affiliate program. You just need to sign up and get your referral link or marketing banners to promote our products and as soon as any sale happens on your behalf you will get instant affiliate commissions.
What are affiliate levels?
Our affiliate program has 3 levels. Each level is achieved on a specific sale amount. Level-1 is achieved as soon as you register on our affiliate system. Level-2 is achieved once your total affiliate commissions reach to 500 USD or more. Level-3 is achieved once you get 1000 USD or more as affiliate income.
What are commission percentage on each level?
Commission percentages are set as below-
Level 1 – 30% commissions on each sale.
Level 2 – 40% commissions on each sale.
Level 3 – 50% commissions on each sale.
Just to encourage our affiliates, we have decided minimum payout to 50 USD.
What are terms & conditions for affiliate program?
You can read all terms & conditions related to our affiliate program here